Need Make-Up Testing?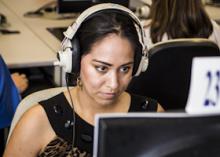 GCC Make-Up Testing is currently being proctored in person by appointment only. Students may schedule their appointments at the main campus by calling at 623-845-3058 or by submitting a request: https://www.gccaz.edu/testing-reserve.
What is Exam Proctoring?
GCC Testing Services administers online/e-course and paper-pencil exams for current GCC students at the request of a faculty member. Make-up exam requests and materials for a small group of students or a single student may be submitted by instructors. Instructors of hybrid or online/e-courses may use Testing Services to administer exams for an entire class, small group, or individual students.
A proctored exam is an in-person exam that is administered by a proctor. A proctor is a person who will supervise you while you are taking your exam to ensure academic integrity. 
General Information
We proctor both paper and pencil and computerized tests.
For paper/pencil exams, please complete the exam request form and drop it off at Testing Services, with copies of the exam, so that we may administer the make-up exam according to your instructions.
For online/e-Course exams, please complete the Instructor Online Form.
For Make-up testing exams, please complete the Instructor Make-up Exam Form.
Students must allow enough time to take a test. The length of testing time varies by instructor. Students will be allowed to start testing as long as the exam is started one hour prior to closing. All tests must be completed ten minutes before closing. This means students may forfeit testing time allowed by an instructor if they start the exam before the cut-off time and after the deadline for a specific exam.
Testing Environment
Students are under video and audio surveillance the entire time. All testing rooms are monitored by a camera system.