Student Success Services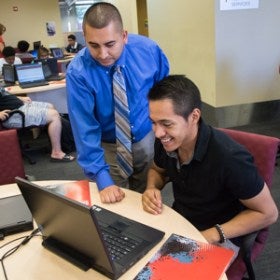 Welcome and congratulations on choosing Glendale Community College!
Are you already admitted to GCC? If so, your next step is to attend the Gaucho New Student Advisement Workshop. All students attending college for the first time and who plan on completing a degree or transferring to a college or university are required to meet with an advisor from the GCC Student Success Team prior to registering for classes.
Designed specifically for new-to-college students, Gaucho New Student Advisement will help you get off to a great start! We look forward to meeting with you to:
Discuss your academic goals and help you identify a pathway
Explain which classes you will start with based on your high school GPA or your ACT, GED or placement test scores. Visit our Course Placement page for more information.
Assist you with selecting your first-semester classes
Walk you through logging in to your Maricopa Student Center
Help you understand payments options
Provide a referral if you need to follow up with one of our helpful colleagues in another department
Request and Appointment Button
Gaucho New Student Advisement Locations
Gaucho New Student Advisement at the Main Campus
Our main campus office is located in the Enrollment Center 
Gaucho New Student Advisement at the North Campus
At the GCC North Campus, Gaucho New Student Advisement is offered in the Academic Advisement area in the Chinle Building.