Need the Bio Assessment?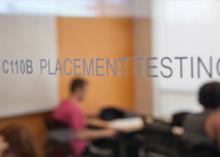 GCC Bio Assessment is currently being proctored only in-person by appointment only. To schedule an appointment please call us at 623-845-3058.
If you have taken a year of high school biology and wish to skip the recommended college-level general biology course (BIO156 or BIO181) and enroll in BIO201 or BIO205 at GCC, you are required to take the BIO Assessment exam. This 40 questions exam will help you evaluate how well you remember this important information. If, after taking the exam, you still feel you are adequately prepared to enroll in a 200-level BIO course, you will need to discuss your score with an academic advisor and get their signature to register.
About the Exam
Biology Self-Assessment:
A 40-question computerized multiple-choice exam;
You will receive your exam results right away after testing;
One test is allowed every 3 months;
Scores are good for one year;
Take this exam if you have taken a year of high school Biology and wish to skip the general Biology course (BIO156 or BIO181);
A current valid photo ID is required.
For additional information, please see the Biology department web page
Course Descriptions
Testing Environment
Students are under video and audio surveillance the entire time. All testing rooms are monitored by a camera system.