Need Placement Testing?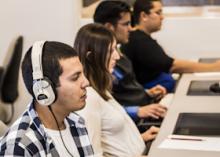 GCC Placement Testing is Online! Two options are available:
GCC Placement Testing is currently being proctored only in-person by appointment only. To schedule an appointment please call us at 623-845-3058.

EdReady self-assessment. Please click on the following link for information about taking the EdReady Assessment: EdReady Page
For more information about Placement testing, visit the Maricopa Placement page.
---
Take the Placement Test
Remember, you should take the course placement test only if any of the following apply to you:
You are currently a high school freshman/sophomore
Your high school GPA is below 2.6
AND
You do not have an eligible ACT score, SAT score, or GED score
Your high school transcripts are older than 10 years
You wish to place in a higher level of English, Math, or Reading
Your high school transcripts are from outside the United States
English, Reading and Math placement scores will be valid for two years. Reading placement test scores that indicate "Exempt from CRE101" do not expire.
For more information about the ACCUPLACER Test visit the Maricopa Placement page.
Your Scores
You will receive the score report as soon as you complete testing.
To view or print your test scores from your Student Center, log in with your MEID and password. A link to test scores will appear under Academic History with a Course Placement Chart linked at the bottom.
We will accept Classic ACCUPLACER scores from other colleges as long as the test was taken within the last two years. Request the school where you took the test to send the score report to our Admissions and Records Department at info@gccaz.edu
Keep in mind: We do not use the test Sentence Skills for English placement. Scores will follow our course placement chart for placement into classes.
ACCUPLACER Retest Policy
You will be permitted one retest in each of the exams (English, Reading, or Math) after at least a 24-hour waiting period. A second retest is permitted no sooner than three months from the first attempt. After the initial three attempts, students must wait two years before taking the exam for the fourth time. 
Course placement scores will be valid for two years.
Reading placement scores that indicate "exempt from CRE101" Do Not Expire.
Group Testing
Group Testing is available by appointment and prior arrangements only! If you need group testing, please send your request to testing.services@gccaz.edu
NO group testing will be available during GCC Finals and the first week of classes during the Fall, Spring and Summer semesters.
Testing Environment
Students are under video and audio surveillance the entire time. All testing rooms are monitored by a camera system.