Early Childhood Learning Center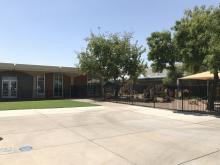 Quality education and care for toddlers and preschoolers. The GCC Toddler & Preschool Early Childhood Education Lab offers childcare in partnership with the ECCEL Preschool Program through the Peoria Unified School District.
Prepare your child for Preschool or Kindergarten. Enroll today!
Tuition Assistance is available - DES and scholarships are now available!
Full-day option only. Students must attend Monday - Friday.
Accepting toddlers (18 months and walking) and preschoolers (up to age 4).
For more information, visit the ECCEL Preschool Program website. To enroll, call (623) 773-6675 or email preschool@pusd11.net.