Football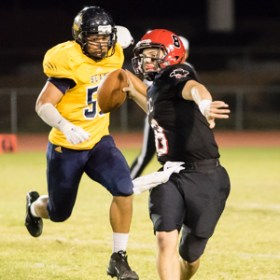 Glendale Community College has enjoyed a rich tradition of football since 1967 when led by Coach Pete Pisciotta, the Gauchos took the field for the first time in a game against Phoenix College. Starting with that first season, Glendale Community College has consistently fielded highly competitive teams and has been a source of pride for students, faculty and staff.
After over 50 years the Glendale Community College football program came to end with the 2018 season. The Gauchos played their last game, under the direction of Coach Mickey Bell, against Scottsdale Community College in November 2018.
Over the years Gaucho teams, players and coaches have earned tremendous recognition as well as numerous awards and titles. In 1988, 2000, and 2005 GCC teams were NJCAA Football Champions. In addition to the NJCAA championships, the Glendale Gauchos won the Valley of the Sun Bowl 19 times.
Student success has always been a focus of the GCC football program. From their start on Glendale's gridiron, GCC athletes have gone on to play in large and small university football programs and continued with careers in the NFL.
Great players come from great coaches who drill the fundamentals while fine-tuning skills. Coach Joe Kersting (1986-2002) holds a spot on the NJCAA 50 Winningest Coaches list for his 16-season record of 114-44-2. Both Kersting and Pete Pisciotta have been inducted into the NJCAA Hall of Fame.
Although football is no longer a part of campus life, GCC commemorates and celebrates the rich history of the Gaucho gridiron.