Project GeoScape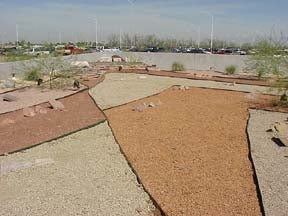 Project GeoScape is a landscape design that uses colored gravels, strategically placed flagstone and boulders, and two vertical features to simulate the geology of some fictitious region (a combination of features in Utah, Arizona, and Nevada). The design incorporates many topographic and geologic features that introductory geology students are expected to understand in Physical Geology, Historical Geology, and Natural Disasters & the Environment courses. GeoScape is an educational tool to promote "hands-on", inquiry-based, and cooperative learning techniques in the instruction of geology. It is intended to serve as a resource for the local educational community. It further hoped that the aesthetics of the GeoScape landscape will stimulate interest in geologic studies in the community at large. Read the GeoScape article published in the Journal of Geoscience Education.
Design
Project GeoScape evolved from a more complicated fictitious geologic map designed by Gary Calderone as part of a computer-based mapping tutorial in collaboration with Robert F. Butler and Michelle Hall-Wallace at the University of Arizona. The original design, however, was deemed too complicated for this application. The design was subsequently modified by Gary Calderone, Wayne Johnson, Bob Thompson, Steve Kadel, and Pam Nelson.
Funding
Project GeoScape was funded mostly by the Arizona Collaborative for Excellence in Preparation of Teachers (ACEPT), a National Science Foundation educational grant. Further funding was also obtained from Glendale Community College's Dean of Instruction, Dean of Administrative Services, and the Applied Science Department.
Construction
Arimax Landscaping (James Worsnup, proprietor) did an outstanding job of constructing GeoScape under very tight time and logistical constraints. See a photo journal of the Project GeoScape construction process.
Acknowledgements
We thank the following folks for their efforts above and beyond the call of duty in the completion of this project: Joyce Elsner (Dean of Administrative Services), Jean Ann Abel (Dean of Instruction), John Winters (Chair, Applied Science Department), Regis Della-Calce and Herman Gonzalez (Business Services), and Al Gonzales (Maintenance and Operations). Without the efforts of these individuals and their staffs, this project would probably never have materialized.