Physical Sciences Department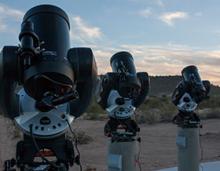 The study of physical science explores our environment, from the smallest mineral components to the farthest star. We offer first and second-year courses in:
Whether you are on a path toward an advanced degree in science, or just want to learn a little more about the physical world we live in, the small class size and personal instructor attention at GCC will help you achieve your learning goals.
We love to teach science! Learn more at our annual campus events: the Arizona SciTech Festival, or Engineer Your Future held in March.
Explore geology on campus at Project Geoscape, or study our state on a field trip with Geology faculty.