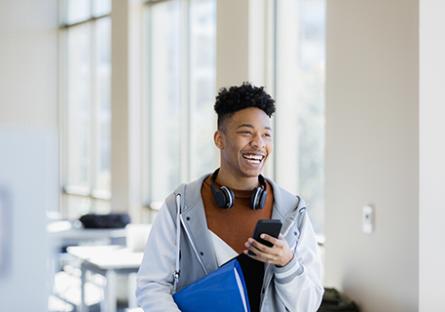 Need money to help pay for college? Scholarships can help. There are hundreds of scholarships out there - chances are great there is one that fits you! Contrary to popular myths, not all scholarships are need-based or require a high GPA. Many scholarships are tailored to specific student populations, such as part-time students, returning adults or students interested in a specific major.
Start by completing ONE online form to apply for all of the Maricopa Foundation Scholarships. Completing this single application puts you in the running for some of the thousands of dollars in scholarships to be awarded to help students to pay for their Fall 2023 semester. Apply by April 30.
 
---
Essay Writing Tips
Be positive, truthful and descriptive.
Reflect on your life goals and career aspirations.
Share your unique story.
Use spell check! Grammar, spelling and punctuation count.
Write your answers in Word, then copy and paste them into your application.
Have a friend or family member proofread your answers for grammatical errors.
Take advantage of the Writing Center.
Read helpful hints about the Maricopa Foundation Scholarships Essay Questions.
General Tips
Any Maricopa Community College student is encouraged to apply, including clock and credit hour students, as well as students paying out-of-state tuition.
If you do not have a GPA with a Maricopa College yet, list your High School GPA.
Hundreds of scholarships, one application! Applications are applied to scholarships based on student answers.
The FAFSA is not required to be considered for scholarships.
Attend a free Financial Aid and Scholarship Workshop.
Read more helpful hints on our Scholarships Tips & FAQs page.
Where can you find MORE Scholarships?
Visit the GCC Scholarships webpage to find out where you can apply for other scholarships. For information on ways to pay for college, or for help completing your scholarship application, attend one of the free Financial Aid and Scholarship Workshops.