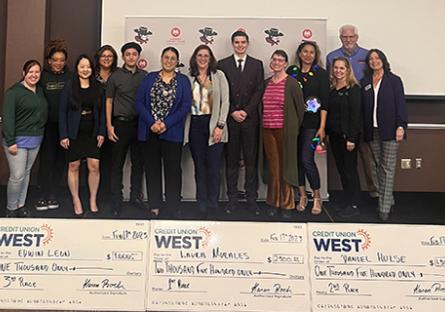 Left to right: Erica Jerido, Jacque Thomas, Ning Duoug, Maria Brunner, Edwin Pena Leon, Laura Morales, Gabriela Cojanu, Daniel Hulse, Cynthia Shepard, Maria Pina, Kelli List, Mike Bull, Rachelle Hall.
Three Glendale Community College (GCC) students won a total of $5,000 in prize money at the GCC Innovation Challenge, held on February 16th in the GCC Student Union. This is the fourth consecutive year that GCC has held this competition, which is open to GCC student-entrepreneurs to pitch their business or product ideas. Credit Union West, a long-standing partner and supporter of this event, has sponsored the cash prizes for the Innovation Challenge four years in a row.
 
These three students won for their business ideas at the final competition at the Innovation Challenge.
Laura Morales, the first-place winner, won $2500 for her pitch for her idea, called "Hands2Teach" which is a micro-school for deaf and hard-of-hearing kids in elementary education. 
The second-place winner, Daniel Hulse, won $1500 for his product, a 3D Printing Filament Recycler. It is a machine that recycles 3D printing filaments.
The third-place winner, Edwin Pena Leon won the third-place prize for his business idea call "Study Sprint." It is an education video app for GenZ for grades 6-12.
 
The judging panel for the final competition included: Ning Duong, SVP, Chief Operating Officer at Credit Union West, Erica Jerido and Jacque Thomas, co-owners of Retail Therapy, Mike Bull, Small Business Development Centers advisor at GCC and Kelli List Wells, owner of Charley's Sports Grill and Education Committee member for the Glendale Chamber of Commerce.
 
Special thanks to the Glendale Chamber of Commerce for awarding a one-year membership to Maria Pina, and her business called MVP Glows.
 
GCC offers many opportunities for students and community members who want to start a small business. These include the Advancing Entrepreneurship scholarship, Make Business Happen $2,500 grant, and other pitching competitions. To learn more visit www.gccaz.edu/innovation-hub.
 
GCC is offering Small Business classes starting on March 10 and April 8. Visit classes.sis.maricopa.edu/ or reach out to Dr. Gabriela Cojanu via email at gabriela.cojanu@gccaz.edu
 
Glendale Community College provides 41 Associates degrees, 61 certificate programs, and a range of non-degree offerings, all available to students in traditional, online and hybrid formats.
 
Founded in 1965 to serve the northwestern part of the greater Phoenix metropolitan area, the college is part of the Maricopa County Community Colleges District, has two campuses and enrolls approximately 26,000 students annually, and employs approximately 1,000 resident faculty, staff, and administrators with an operational budget of $83 million.
# # #
GCC Media contact: John Heckenlaible, (623) 845-3809 John.heckenlaible@gccaz.edu