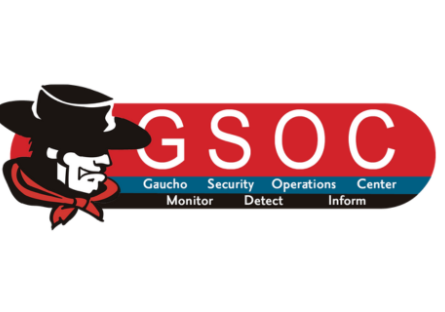 Glendale Community College will hold a ribbon-cutting ceremony for the Gaucho Security Operations Center (GSOC), on August 18, 2023. The GSOC was created to provide cybersecurity students with paid internships and real-world experience in monitoring, detecting, and informing against potential security threats and breaches. The GSOC student interns will serve rural communities in Arizona.
 
The GSOC is the first operations center of its kind in the Maricopa Community College District, as well as in Arizona, to use a collaborative-hub model that gives back to the community by offering cyber as a service. Rural municipalities that need cybersecurity services can partner with GSOC and receive monitoring, detecting, and informing services from student interns, all at no cost. The mutually beneficial program and student-learning environment is supervised by Martin Bencic, Program Director of Cybersecurity at GCC, in a newly refurbished section of the Business and IT building. The Glendale Community College GSOC serves the growing need for cybersecurity professionals in Arizona.
Interns will receive advanced skill development as a Security Operations Center Analyst and Engineer while helping to monitor, detect, and inform against security breaches on clients' network and other operations. The program will provide competency-based platforms, while creating career-ready pipelines for students while serving the community.
 
"The STEM grant for the West Valley Information Technology and Advancing Technologies provided the funding needed to get this program started. The GSOC provides students with the workplace-ready experience that is desperately needed. Students are in an endless loop - they need experience to get a position but cannot get experience without securing a position. This program provides students experience working in a live, security operations center, giving them workplace-ready knowledge and skills as they move into the cybersecurity industry or transfer on to a 4-year program." Stated Rachelle Hall, Department Chair of the Business and Information Technology Department at Glendale Community College.
 
The Ribbon Cutting Ceremony date, location and timeline is as follows;
August 18, 2023, in the Student Union, room 104 D & E, at Glendale Community College, 6000 West Olive, Glendale AZ.
                9 a.m.              Welcome, comments and guest speaker
                10 a.m.            Ribbon Cutting
                10:20 a.m.       Tours of the Gaucho Security Operations Center.
 
The Cybersecurity program at Glendale Community College is a National Center for Academic Excellence in Cyber Defense (CAE-CD). The goal of the CAE program is to reduce vulnerability in information systems infrastructure by promoting higher education and research in cyber defense and producing professionals with cyber defense expertise. The National Centers of Academic Excellence in Cybersecurity program is managed by NSA's National Cryptologic School. Federal partners include the Cybersecurity and Infrastructure Security Agency, the Federal Bureau of Investigation, the National Institute of Standards and Technology/National Initiative on Cybersecurity Education, the National Science Foundation, the Department of Defense Office of the Chief Information Officer, and the U.S. Cyber Command.
 
GCC is also the only institution in the state of Arizona that is a partner institution of the U.S. Cyber Command Academic Engagement Network (AEN). There are a total of 84 institutions as of July 1, 2022, of which only 14 are community colleges. The goal of the AEN is to strengthen relationships and communication with AEN partners to improve and sustain efforts to meet cyberspace educational requirements and workforce needs.
 
Glendale Community College provides 41 associate degrees, 61 certificate programs, and a range of non-degree offerings, all available to students in traditional, online and hybrid formats. Founded in 1965 to serve the northwestern part of the greater Phoenix metropolitan area, the college is part of the Maricopa County Community Colleges District, has two campuses and enrolls approximately 26,000 students annually, and employs approximately 1,000 resident faculty, staff, and administrators.
 
# # #
GCC Media contact: John Heckenlaible, (623) 845-3809 John.heckenlaible@gccaz.edu