Friday, September 8, 2023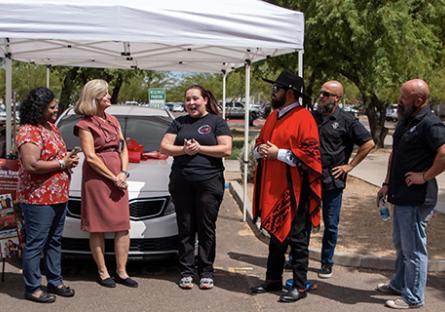 Glendale Community College teamed up with JC Supercars and Helping Hands for Single Moms to present GCC nursing student, Amber McCarty, with a beautiful 2012 Kia Optima.
The presentation took place at Glendale Community College at 1:30 p.m. on August 31, 2023.
"We are so glad to partner with JC Supercars and Helping Hands for Single Moms on this exciting event. All of us at GCC want to thank Chuck and Aaron from JC SuperCars, and Iris from Helping Hands for Single Moms. We appreciate their generosity and are pleased that a hard-working and deserving student such as Amber now has dependable transportation." Stated Susan Campbell, Dean of Instruction at Glendale Community College.
JC Supercars has given away over 300 cars to single moms in the past 13 years and is proud to present another car giveaway on the campus of Glendale Community College for the first time. They are happy to provide a hardworking single mom with a free car, so she can continue to attain her degree in nursing while supporting her family.
Glendale Community College provides 41 associate degrees, 61 certificate programs, and a range of non-degree offerings, all available to students in traditional, online and hybrid formats. Founded in 1965 to serve the northwestern part of the greater Phoenix metropolitan area, the college is part of the Maricopa County Community Colleges District, has two campuses and enrolls approximately 26,000 students annually, and employs approximately 1,000 resident faculty, staff, and administrators with an operational budget of $83 million.
# # #
GCC Media contact: John Heckenlaible, (623) 845-3809 John.heckenlaible@gccaz.edu