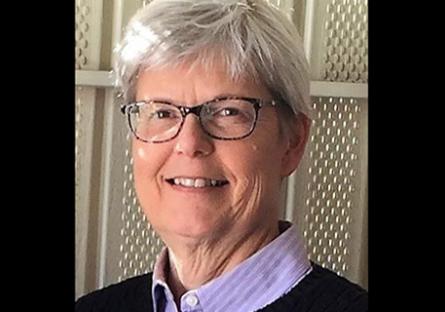 Dr. Pam Joraanstad, of Glendale Community College, has been selected to be a member of the North Dakota Speech and Debate Hall of Fame. Pam will be inducted by the Communication, Speech, and Theatre Association of North Dakota at the annual convention in September.
The award recognizes Pam for her lifelong involvement and success in Speech and Debate and her contributions coaching high school and university teams. She got her start in Speech and Debate at Fargo North High School where she was three-time state debate champion and won state in Extemporaneous Speaking. She also qualified in Extemporaneous Speaking and Policy Debate for the National Tournament.
 
Pam began her coaching career at Shanley High School in Fargo, ND, while she was still in college. Under her guidance, Shanley High School Students earned six consecutive Class A Speech Championships, a seventh-place finish in debate at the 1984 National Tournament, and 12th-place at the Lincoln-Douglas tournament. Individual student success included five consecutive state debate champions, an Outstanding Representative, and three All Americans. In all, over 40 students qualified in National Forensic League National Tournaments.
 
Upon earning her degree, Pam joined North Dakota State University where she coached Debate from 1987-1989. During her time as coach, the NDSU Debate Team reached the break rounds at the CEDA National Tournament.
 
After moving to Arizona and joining the faculty at GCC, Pam worked with Dr. Jim Reed to establish the Maricopa Speech and Debate Team, at the request of Dr. Maria Harper Marinick. Pam has also managed the Public Speaking Contest for the Southwest Communication Association.
 
When asked about thoughts of her career, as well as Speech and Debate, Pam stated, "I've coached a lot of amazing individuals over the years. Many students chose to compete so they would have a place to belong, I've seen how Speech and Debate created lifetime friendships! One of the greatest benefits of Speech and Debate, besides developing essential skills, is that all students are welcome. Some students were exceptional in their competitions. One of the first high school debaters that I coached was just inaugurated as the President of the University of Pennsylvania after serving as the provost of the University of Virginia, and Dean of the Stanford Law School."
 
Dr. Joraanstad has been at Glendale Community College for 31 years, serving as Communications Faculty. Pam has a B.A. in History, with Minors in Political Science and Music as well as a B.S. in Social Studies Education. She has an M. A. in Speech Communication and History. Pam's Ph.D. is in Intercultural Communication and Rhetorical Studies.
 
Glendale Community College provides 41 Associates degrees, 61 certificate programs, and a range of non-degree offerings, all available to students in traditional, online and hybrid formats. Founded in 1965 to serve the northwestern part of the greater Phoenix metropolitan area, the college is part of the Maricopa County Community Colleges District, has two campuses and enrolls approximately 26,000 students annually, and employs approximately 1,000 resident faculty, staff, and administrators with an operational budget of $83 million.
 
# # #
 
GCC Media contact: John Heckenlaible, (623) 845-3809, John.heckenlaible@gccaz.edu