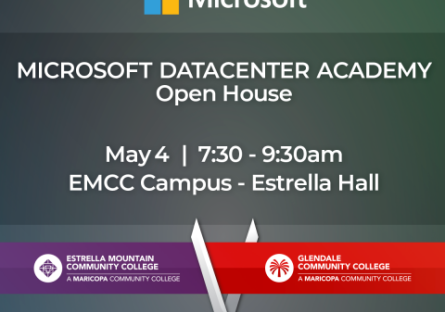 Estrella Mountain Community College (EMCC) and Glendale Community College (GCC) invite the public to the grand opening of the Microsoft Datacenter Academy on May 4. An open house will take place from 7:30 to 9:30 a.m. in the Academy located on the ground floor of Estrella Hall on campus, 3000 N. Dysart Road, Avondale.
 
What: Microsoft Datacenter Academy Grand Opening
When: 7:30 to 9:30 a.m. May 4
Where: Estrella Mountain Community College, 3000 N. Dysart Road, Avondale
 
The Datacenter Academy is the result of a collaboration between EMCC, GCC, and Microsoft. It serves students from both colleges, preparing them for high-demand jobs in the IT sector, including in Microsoft Datacenters.
 
The collaboration is part of the Microsoft Datacenter Academy program, which helps build digital skills and provides career pathways in the growing information technology sector for residents of communities in which Microsoft operates datacenters. Microsoft opened a Datacenter in El Mirage last year and has plans to open two more in Goodyear in the near future.
"This collaboration with Microsoft will help fill a void in the IT job market and provide our students with additional streamlined pathways to these high-paying jobs, many of which will be located right here in the West Valley," said Dr. Rey Rivera, EMCC President.
 
The Academy houses servers, storage devices, and networking equipment donated from Microsoft datacenters. The specialized equipment gives students hands-on experience with industry-standard hyper cloud hardware.
 
"GCC is honored to partner with EMCC and Microsoft in creating a Datacenter Academy that will prepare our students for careers in this growing high-tech field," said Dr. Teresa Leyba Ruiz, GCC President. "We are thankful to Microsoft for their vision and dedication in supporting community colleges as their premier partner in preparing a well-trained workforce."
 
Students participating in the Datacenter Academy take courses to earn a Certificate of Completion or an Associate of Applied Science Degree. Additionally, they can earn certifications in several CompTIA areas such as A+, Security+, Network+, Cloud+, and Server+.
 
Microsoft's mission is to empower every person and every organization on the planet to achieve more. The alignment with EMCC and GCC's mission, vision, and values provide robust opportunities for partnership between the three organizations.
 
"Microsoft is proud to partner with Estrella Mountain Community College (EMCC) and Glendale Community College (GCC) to deliver IT training to students and area workers," said Bob Reitinger, Workforce Development Global Program Manager at Microsoft. "Microsoft is committed to investing in workforce development to increase digital literacy in the community and build 21st-century job skills. The Estrella Mountain/Glendale lab helps us deliver on that commitment. Graduates from EMCC and GCC programs are prepared to pursue careers in the IT field, including working at a Microsoft datacenter. The Microsoft collaboration with both schools will empower students and provide opportunities for career growth to those underrepresented in technology."
 
Bringing the Microsoft Datacenter Academy from concept to fruition required the support of many partners. EMCC faculty and staff were instrumental in finalizing the layout of the Datacenter Academy space.  Microsoft provided generous financial assistance, and Microsoft employees assisted EMCC and GCC faculty in developing the Datacenter Academy curriculum.  In addition, many other companies donated goods and services towards the construction of the Microsoft Datacenter Academy.
Estrella Mountain Community College is one of the ten colleges in the Maricopa County Community College District, one of the largest community college districts in the nation. A Hispanic-Serving Institution (HSI), EMCC offers academic courses leading to associate degrees, university transfer, certificates, and short-term job training to more than 14,000 students annually. The flagship campus is located on Thomas and Dysart roads in Avondale. Classes are also offered online and at the EMCC @ West-MEC Southwest Campus at 500 N. Verrado Way, Buckeye.
Glendale Community College provides 41 Associates degrees, 61 certificate programs, and a range of non-degree offerings, all available to students in traditional, online, and hybrid formats. Founded in 1965 to serve the northwestern part of the greater Phoenix metropolitan area, the college is part of the Maricopa County Community Colleges District and enrolls approximately 26,000 students annually. The Main Campus is at 6000 W. Olive Ave., Glendale, and the North Campus is at 5727 W. Happy Valley Road, Phoenix.