Thursday, November 17, 2022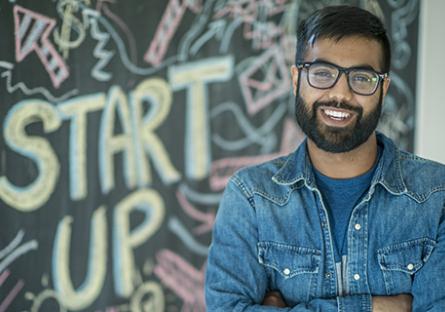 Two Glendale Community College (GCC) Students received $2,500 each from the 'Make Business Happen at GCC' grant for their small business startups. Gabriel Bay won for his company, Moorish Manor Artist Management and Recording Studio. Kristin Keller is the owner and recipient of seed money for her company, Twitching Eye Studios, an online art shop and event vendor.
Funding for the awards is courtesy of a donation from Wells Fargo bank and is made available through entrepreneurship programs at Glendale Community College, as well as ten sister colleges in the Maricopa Community College District, and in cooperation with the Small Business Development Center.
"We are so grateful for the generosity of Wells Fargo," stated Dr. Gabriela Cojanu, Entrepreneurship and Small Business faculty at GCC Glendale Community College. She added, "GCC uses the Wells Fargo donation to fund scholarships and grants which help student entrepreneurs with start-up costs. These scholarships and grants include the Advancing Entrepreneurship Scholarship which covers tuition for GCC's Small Business Management and Entrepreneurial Studies program and the Make Business Happen at GCC grant which awards funds to two students each semester for starting or growing their business.
GCC students are eligible to apply for the Advancing Entrepreneurship scholarship and Make Business Happen at GCC grant.  The next grant application deadline is on March 31, 2023. Interested students must complete an application which will be reviewed by a panel of judges. Past judges were Mike Bull and Yolanda Facio, advisors from the Small Business Development Center, and Jacque & Erica, owners of the Glendale Retail Therapy market store. Dr. Gabriela Cojanu mentors grant awardees on business growth strategies and best utilizing these funds. 
The two grant recipients chosen earlier this month are Gabriel Bey and Kristen Kellner.
Gabriel Bey - Moorish Manor Artist Management and Recording Studio
Gabriel Bey is the owner of the Moorish Manor and he is also a composer, publisher, trumpeter and Spooky Kool jazz band leader. 
Gabriel is working towards his vision for the Valley, which is to see it become a destination for Arts and Culture and a center for growth, elevating the residents' quality of life, particularly in the arena of Music and Film. 
Gabriel performs with many different artists, but his joy comes from performing with the many different area jazz bands. In addition to performing, he manages up-and-coming and underserved artists. 
His upcoming performance is at the Festival of the Arts at Herberger Theater on Saturday, November 19, Monroe Stage: 12:20 - 1:20 p.m.  Gabriel Bey and Friends
Contact information for Gabriel Bey (623) 221-5215, gabe@moorishmanor.com, www.gabrielbey.com.
Kristen Kellner -

Twitching Eye Studios
Twitching Eye Studios is an online art shop and event vendor selling a wide variety of items created by two artists: Kristen Kellner (founder/owner) and Tiffany Shore. Kristen is a fine art painter and textile artist who works in a wide variety of media. She creates original paintings, 3D pieces, artist prints, merchandise, and niche greeting cards. Tiffany Shore is the resident crafter, and she creates origami, jewelry, makeup bags, hair accessories, sewing products, and resin work.
 Most of their products will be appealing to everyone, but their niche greeting cards are designed for anyone who does not fit into the American societal norm. "Real life is infinitely more nuanced than the norm, so our cards offer honest communication, genuine sentiment, realistic and pessimistic perspectives, and an inclusive selection of holidays, audiences, and content," said Kristen.
Their products are available online and at art festivals, renaissance fairs, craft shows, and comic conventions. They will be part of Peoria's Second Saturdays starting in November 2022.
Contact information for Kristen Keller (623) 920-7612 (text preferred), twitchingeyestudios@gmail.com, twitchingeyestusdios.com
Two upcoming events for student entrepreneurs and the community are the Entrepreneurs Talk Series on December 7, 2022, from 11 a.m.-2 p.m. and the Innovation Challenge pitching competition taking place on February 16, 2023, from 3-5 p.m. Both events are housed in the Student Union building at the GCC campus, 6000 W Olive, Glendale AZ.
For more information about small business and entrepreneurship classes and funding opportunities at GCC contact Dr. Gabriela Cojanu at gabriela.cojanu@gccaz.edu; gccaz.edu/innovation-hub. Follow us on Instagram @gccazentrepreneurship.
---
Glendale Community College provides 41 Associates degrees, 61 certificate programs, and a range of non-degree offerings, all available to students in traditional, online and hybrid formats.  Founded in 1965 to serve the northwestern part of the greater Phoenix metropolitan area, the college is part of the Maricopa County Community Colleges District, has two campuses and enrolls approximately 26,000 students annually, and employs approximately 1,000 resident faculty, staff, and administrators with an operational budget of $83 million.
# # #
GCC Media contact: John Heckenlaible, (623) 845-3809, john.heckenlaible@gccaz.edu