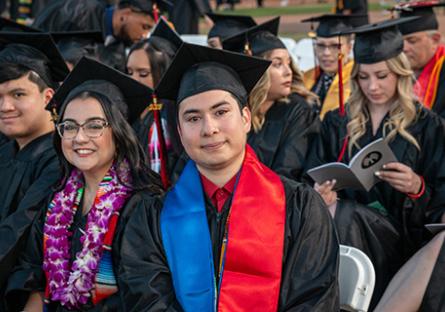 Over 400 Glendale Gauchos received their associate degrees and certificates at the Glendale Community College Commencement exercises, held on Friday, May 12. The graduation ceremonies took place at the Peoria Sports Complex and were presided over by interim President, Dr. Ernie Lara. 
In addition to the students receiving their degrees, the evening was highlighted by comments made by GCC student Daniela Colin and GCC faculty member, Dmytro Chosen, Ph.D. These speeches were accompanied by musical performances from GCC's Brass Ensemble, Treble Quartet, Trumpet Ensemble, and A Cappella Ensemble. 
After the conferring of Degrees and Certificates, the GCC faculty lined up to form a tunnel out of the stadium, for the new graduates to walk through. Images and posts are available for viewing at www.gccaz.edu/graduation-ceremony.  You can post images to Instagram at #GCCAZGrad.