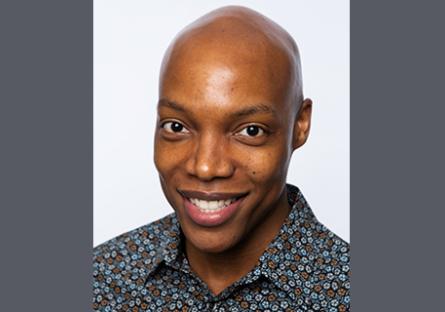 The Phoenix Business Journal has announced the selection of young leaders for the 2023, 40 Under 40 awards. Dr. Le'Brian Alexander Patrick-Rolando of Glendale Community College is one of those receiving this prestigious award.
The award spotlights 40 influential individuals in the Valley who are under the age of 40 and are on the fast track to success in their careers while making an impact in the community.
Dr. Patrick-Rolando currently serves as residential faculty in the Social Sciences Department and the Honors Program at GCC. In addition to his faculty role, he is also GCC's Director of Diversity, Equity, and Inclusion, working with both our GCC Diversity Committee and DEI Council. 
Dr. Patrick-Rolando, a Louisiana native, received his Bachelor's in Anthropology, Master's in Sociology and Women's and Gender Studies, and Doctorate in Sociology, Criminology, and Gender and Sexuality Studies from Louisiana State University. He specializes in qualitative research methodologies to understand the interplay of Gender, Sexuality, Race, Ethnicity, Inequality, and Criminology.
In addition to his academic background and the work that he does at GCC, he also serves as a member of the Diversity and Inclusion Committee for the Glendale Chamber, which works with Glendale Business leaders to find the best ways to serve our community. Beyond academics, Dr. Patrick-Rolando is an artist that continues to support the arts in various ways, including by dancing with various companies as both a resident artist and guest artist. Dr. Patrick-Rolando believes the arts have a special way to connect us to our neighbors and reduce boundaries of understanding and compassion. 
This year's award winners hail from a wide range of areas including legal, health care, technology, education and nonprofits. A panel of judges, made up of previous 40 Under 40 winners, selected the 2023 honorees from a pool of 330 nominees.  Dr. Patrick-Rolando is the only college faculty on this year's list of award winners. 
An awards ceremony will be held on Aug. 3 at the Scottsdale Center for Performing Arts.