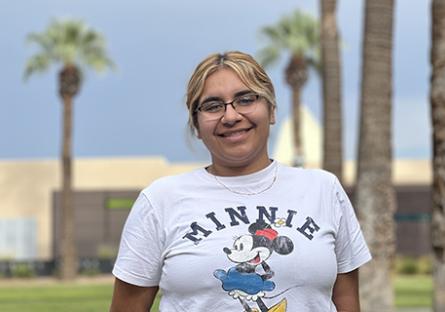 Meet Alondra, a Proud Gaucho.
Meet Alondra, she is a Glendale Community College student who is proving that adversity can be overcome, that exploring options can lead you to your passion, and to never give up on the dream of attending college.
 
Alondra became a proud Gaucho in 2017 with plans to study Sonography, but due to an injury, she was unable to finish out her first semester. Recovery took longer than expected and she lost her focus on academics and drifted through a number of jobs. She soon realized that the jobs weren't challenging her, nor did they offer much growth potential. Knowing that she wanted a long-term and fulfilling career, Alondra decided that college was the best route and she re-enrolled at GCC in August of 2019. Her goal was to explore options among the thousands of course options available. 
 
She took several classes in Communications and Behavioral Health and found her passion. Her declared major is Family and Human Development with the goal of being a case worker, social worker or family therapist. She is well on her way to achieving her dream and along the way, she knows that she is being an inspiration to others. As a Maryvale High School graduate, Alondra is the first person in her family to attend college. Her success at GCC and because of the great experiences she is having on campus and in the classroom, she has motivated her younger brother to attend GCC, as well as her cousin Arianna.
 
She is on target to complete her associate degree in December of 2022 and afterward, she will be transferring to Arizona State University, Tempe. In the meantime, she will keep busy with her studies, part-time job on campus and running a party planning business with her husband of two years.
 
Alondra knows that ASU will be a change but she is confident that she will be able to handle it because GCC has prepared her so well.