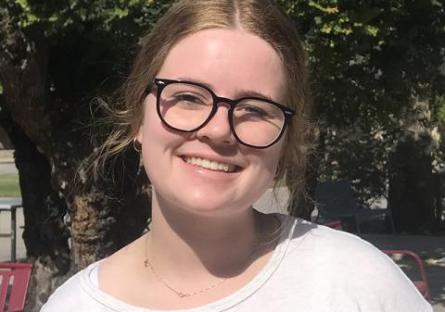 Maddy came to GCC with an interest in photography, but not much in the way of a long-term plan; in spring 2022 she will graduate with her associate degree and begin her dream job. She credits her photography instructor Brendan Regan and GCC's athletic director Peter Oliszczak for helping achieve her dream. "Brendan really pushed me. He saw the talent and capabilities that I did not see in myself. Through his encouragement, I was able to realize my talent and develop self-confidence, plus he put me in contact with Peter Oliszczak." Stated Maddy. She added. "Peter gave me the opportunity to get into sports photography." Now I will be doing the photography at Cardinals Stadium. Once again, she credits Brendan Regan. "He knows the people in charge of events at the stadium and he told them about me. I interviewed and got hired…I know that Brendan's recommendation made a huge impact."
Maddy had considered NAU and the University of Utah after graduation from Paradise Honors High School in Surprise. Because she was undecided on what she wanted to major in, she chose to go to GCC and try out various courses to see what interested her. She also felt it would be a better way for her to transition from high school to a four-year university. Maddy commented that it was hard at first because everything was online but she decided to take a full load each semester and get her degree in two years, while at the same time working at a full-time job. Her advisors gave her the option to complete in three years but she decided to push herself to graduate in two years.
 
When asked if she feels if she made the right choice in attending GCC she responds with an emphatic yes! "Everyone at GCC made me feel so welcome. And the class sizes were nice and small which allowed me to easily make friends and have the instructors get to know me. All the faculty made it very clear that they were there to help, guide and inspire students."
Next time you are watching a Cardinals home game, be sure to look to the sidelines for photographer Maddy Bowen, a proud GCC Gaucho.