Thursday, January 20, 2022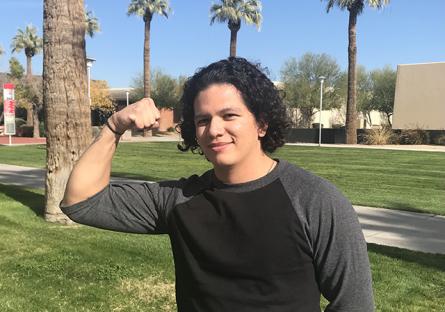 Meet Arthur, an Exercise Science major whose life has totally transformed in the past four years. In 2017 he had just graduated from Dysart High School and was working as a busser in a restaurant. He wasn't sure what he wanted to do and wasn't planning on going to college until a friend convinced him to join him at GCC.  Arthur started exploring his options and because he liked to lift weights, he decided to enroll in an Exercise Assessment and Screening class. Arthur credits his instructor Erika Hopson for explaining all the career opportunities that exist in the exercise field. "Conversations with Erika helped me get a direction…" stated Arthur.
"Life took a big turn for me about a year ago" Arthur continued. It was while doing a Strength and Conditioning internship with Derek Drumtra at GCC that his future plans crystalized. "The hands-on experience I gained from working with Derek got me really excited. I enjoyed what I was doing so much that I decided to make it my career." Stated Arthur. That experience convinced him to enroll in the GCC-NAU Exercise Science Bachelor's degree program. He is excited to be in the first cohort, and he is a bit nervous about it too. What makes him comfortable is that his in-person classes will be taught at GCC by Lisa Lewis and Erika Hopson. One class taught by an NAU instructor will be online.
When asked about his long term plans he states "I'm taking it one step at a time. Four years ago I didn't expect be here, going to school and doing a job I love. So, I will see what the future brings." One thing is certain, if it weren't for GCC and all the choices available to him, Arthur would not have discovered his passion, much less have the opportunity to pursue it.
Incidentally, the job that Arthur is referring to is working part-time in Exercise Science at GCC. He plans to continue working while pursuing his bachelor's degree. After that, perhaps a job as the strength and conditioning coach for a sports team. But again, like Arthur says, "one step at a time."