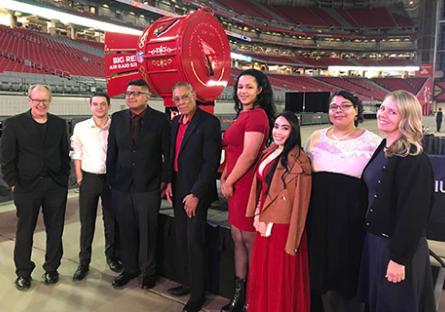 Pictured, from left to right; Joseph Pingleton, Matthew Ramsey, Eduardo Bahena, Joseph Sampson - Adjunct Faculty, Chelsea Hennigan, Danielle Ruiz, Belen LaGrange, Stephanie Lucas - Faculty, Not pictured: Bryan Dubon - Student Facilitator (Film & Media Production)
Students from the Film & Media Production program at Glendale Community College were once again honored to provide the nominee videos for the WestMarc 'Best of the West' annual awards gala. The nomination videos are filmed in the GCC Television Studio and edited over many weeks. Their work is screened at the red-carpet gala on the jumbotron at State Farm Arena.
Working on these videos provides students with experience interacting with individuals in leadership positions throughout the West Valley; from school boards to city councils, to Arizona senators and mayors, and from business leaders to important figures in non-profits, and the arts.
GCC's collaboration with WestMarc's 'Best of the West' began in 2019 when the students answered a 'Request for Proposal' and had the opportunity to pitch their capabilities and skills.  GCC Film & Media Production students competed against and won over teams from film and media programs at four-year colleges and universities. After the successful first year, GCC was invited back for the 2021 and 2022 events.
Guiding and assisting the students from GCC faculty and staff includes lead instructor, Joe Sampson, and Stephanie Lucas as the coordinating producer. Student Facilitator, Bryan Dubon, a GCC graduate was the mentor for the project, and Belen LaGrange from Digital Media Arts also helped out with the program this year.
In addition to the students receiving a stipend for their work, they are invited to attend the event, enjoying dinner on the field of the stadium where the Cardinals play, while getting recognized for their work.