Wednesday, October 26, 2022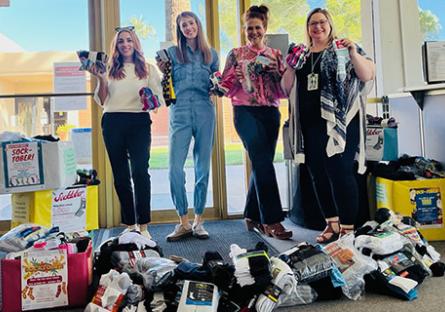 In the month of October, Glendale Community College sponsored a SOCKTOBER Sock Drive to benefit some of our community partners. Socks are one of most frequently requested items by unhoused and underserved populations. The premise is very simple; to collect as many new socks as possible and donate them to organizations that serve those in need. Between October 1st and 21st, the GCC Community donated a grand total of 1,707 pairs of socks, exceeding the original goal of 1,000 pairs. All of the sock donations will be distributed to the following; Chrysalis Women's Shelter, Catholic Charities, Maricopa County Juvenile Department and Arizonans 4 Children. A huge thank you to everyone who donated socks and for showing our community that GCC Cares, and making a positive difference in people's lives.

 

 

Special thanks to Gina Weatherly and Tina LeBaron who initiated the idea for the campus-wide Socktober event, John Mateo's team for collecting boxes, Child and Family Studies & Career Services student workers who prepared/distributed boxes/collected and counted socks, Kathy Schutt and Paige Moore at GCC North for being Socktober champions, the Career Services team who created the colorful fliers and Marketing for promoting on Gaucho TV, via Social Media and in Hey Gauchos news bulletin.