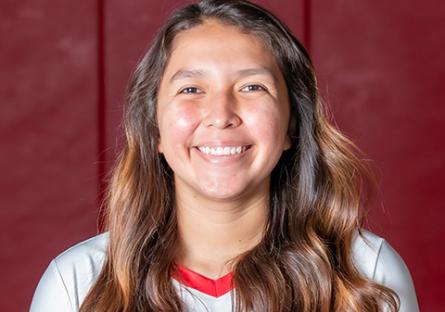 Meet Jayda, a student athlete who is studying Early Childhood Education so she can teach and inspire school-age children. "I love Pre-K and kindergarten kids!' States Jayda, adding, "I am so motivated by their innocence and the impact I can have on their future, and by being a role model to them." She is also motivated by her mother, who is a school principal in the Navajo Nation, as well as GCC volleyball coach, Lisa Stuck.
 
Jayda credits her mother for her interest in volleyball. "She got me into volleyball when I was about 10 years old and I immediately loved it, plus it has opened up a world of opportunities for me." Indeed, it was during a volleyball camp that Coach Stuck took note of the talented athlete. "Lisa and I kept in touch over the years and when it came time to attend college Lisa asked me to play for GCC." Commented Jayda. "I had offers from several other colleges but I knew GCC was the school for me." Jayda said that she has deep respect for Coach Stuck and her program. A conversation with Kristen Becenti who played on the 2015 championship GCC volleyball team helped clinch her decision.
 
As important as volleyball is to Jayda, it is her family that is her true source of strength. She credits her mother with being a role model and the backing and love of her family and friends that gave her the courage to move from Tuba City to Glendale. Jayda admits that is was not easy; she had to find a place to live, start paying her own bills, buy groceries and learn to live on her own. A challenge made more difficult by COVID-19.