Wednesday, October 6, 2021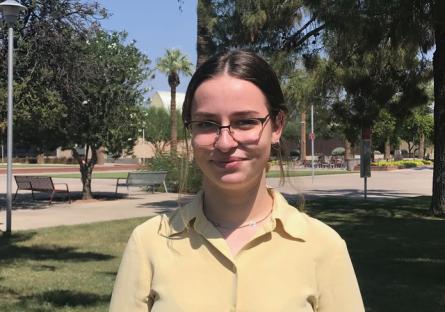 Devin Dawson is an art major with her sights set on being an educator, first at the high school level and then college after she obtains her master's degree. "In my future I also see myself working at a museum in the education department," stated Devin, adding, "I owe a lot of my future direction to Dr. Pam Hall here at GCC. She is such a great influence, showing me what I can do and where I can go with an art degree."
In addition to taking a full course load at GCC, Devin is serving as the President of the newly formed GCC Art Club, plus she assists Dr. Hall in curating the GCC art collection on display in the library. "I've learned that curating art is so much more than personal experience. It is about helping people find an intimate connection with art, understanding how it challenges our thinking, and the way it impacts society as a whole."
As a first-generation college student, Devin felt that GCC was the ideal way to transition from high school to a university. Affirming that she always had a thirst for knowledge and enjoyed learning new things, Devin knew college was necessary for her future. According to Devin, "While in high school, I took classes at GCC and saw that the faculty was truly interconnected with the students; adhering to the promises that 'GCC Cares'- I have seen that time and time again." She also commented that GCC is a great place to find financial footing in advanced education. Devin plans on graduating from GCC in the spring and then transfer to ASU for her bachelor's degree in Art Education with a minor in Art History.