Tuesday, February 22, 2022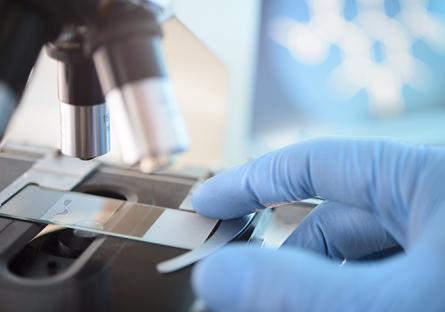 Imagine getting to experience real-life research before you're an upperclassman.
GCC and ASU-West are flipping the traditional student experience on its head. In a new Concurrent Enrollment Program (CEP) joint Biotech partnership between GCC and ASU-West, students earn an Associate in Applied Science degree in Biotechnology and Molecular Biosciences from GCC and a Bachelor of Applied Science degree in Cell and Molecular Biology Research from ASU West at the same time.
Far from the typical transfer program where a student takes all their core courses at the community college then transfers to work on their upper-division courses at a university, GCC/ASU-W mixes it up – allowing students to take a mix of course requirements. So, instead of waiting to take the cool classes related to your degree, now, you get to dive right in. And for less money.
No longer do you have to wait to get knee-deep in research, lab work, published pieces, presentations and conferences. How? Because of GCC's reputable Biotechnology and Molecular Biosciences degree program, and ASU's status as a Research 1 school and the #1 Most Innovative School in the US according to US News and World Report – for the 7th year in a row.
Who is it for? Students interested in the exciting field of Biotechnology or looking to be more competitive in the graduate school application process for medical, pharmacy, dental or veterinary schools.
"In our cohort-based program, students get into the research lab early in the program instead of waiting," said GCC Biotechnology Program Director, Dr. James Tuohy. "As students gain skills in biotech techniques, the rigor of the work changes. Moving through as a cohort allows students to create relationships and support systems with each other and with the college."  
Those cohort support systems are key to student success.
GCC's CEP Biotech students receive mentorship not only from upperclassmen but also from Dr. Tuohy himself – something not commonly found in the high instructor-to-student ratio of large universities.
"The demand is high for students with lab experience and STEM interests," said Dr. Tuohy. "Biotech is a diverse field. Graduates have diverse opportunities including water quality, food science, epidemiology, bioinformatics, DNA analysis, pharmacology and more."
Arizona's biotech industry is growing rapidly. Students have the opportunity to intern at some of the Valley's heaviest hitters like T-Gen, Barrow Neurological Institute and SkySong and graduates go on to become researchers, such as those who worked on the mRNA vaccines, or those working on treatments for diseases like Alzheimer's.
Beyond the high-tech classrooms, immersive course work and real-life application, what makes the program so appealing is the low student-to-instructor ratio allowing for a more focused experience. Each student is mentored one-on-one, meets with an assigned advisor and receives targeted support to complete the program.
It doesn't hurt that, students pay significantly lower tuition for 75 of the 120 credits required for their bachelor's degree, get free parking at GCC, free tutoring, and stay close to home.
The college is accepting applications to the program now for Fall 2022. Early advising is important as there are several prerequisites that cannot be delayed.  
Get a jump start on your STEM career! Visit https://www.gccaz.edu/academics/stem/asuw-cep-program for more information.